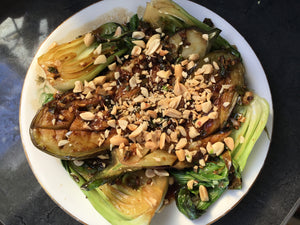 Farewell Daylight saving - recipes for the week starting 2nd April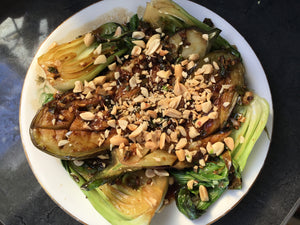 Braised eggplant and Shanghai, with peanuts? Yes please. This was refreshingly quick and simple to make, sweet and savoury flavours, does have peanuts but also vegan, DF and GF
Red lentil dhal is absolute comfort food, but this one is a bit flash - it has aspirations - well, it has spiced onions....  only half an hour to make, and red lentil dhals are great the next day if any lasts that long. Fresh chilli chopped through the onions optional. Vegan, DF and GF
Potato and courgette soup may sound a bit bland but it has tarragon in it which lifts it into something rather special. I make it a lot and freeze it (in cardboard milk cartons which stack very neatly in the freezer...) to enjoy later in the year - when courgette is no longer something to sigh over! Vegan, DF and GF
Saagwalla curries are my favourite! This one is a Saag Aloo, potato and spinach curry. It has tomato and chickpeas as well, making it a well-rounded and satisfying meal.  And once again it's vegan Df and GF.
This one may not look very flash but my is it tasty! It's a slow braise of very good pork sausages, with wedges of apple, pumpkin and potato and cooked down in stock or apple juice depending on how much you like savoury/sweet combos. Not even slightly vegan, but DF and GF (depending on the sausages )
And finally, fish poached in miso with hokkien noodles. This took about 10 minutes to put together and it was very good! Fish, runner beans, fresh tomato and fresh chilli poached in miso, then when the tomato is starting to break down add a block of hokkien noodles (or Udon if you prefer). Done. So simple. There may have been some rice powder to thicken it up a little.  DF only.
 I hope those will see you into the first week of autumn...