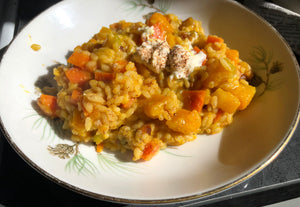 Recipes for the week starting 9th April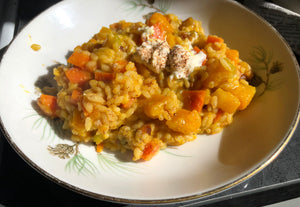 This is a very simple, Very ORANGE risotto of Pumpkin and Carrot, flavoured with freshly grated nutmeg as well as the orange things. The recipe uses butter which makes it a bit indulgent, and sour cream which makes it even more so! But you could use cooking oil and plain yoghurt, and the risotto would still be very good! The texture contrast of the cooked carrot and pumpkin is quite fun also... Vegan, DF and GF so long as you don't use butter or cream...
This is a simple and fragrant mix of potato and cauliflower - an aloo gobi curry. It has turmeric, coriander and cumin, popped mustard seeds to get some hot and crunch, fresh chopped tomato and fresh ginger. It's very good, and would be well-served with some rice...  Again, the dollop of plain yoghurt is entirely optional, and the only thing that stops this being Vegan and DF - is also GF.
These spring onion pancakes are called Cong You Bing, and the process is kind of like making flaky pastry. There's a lot of rolling and resting...it's quite satisfying, but you do need to consider those resting times before you start in order to allow enough time. These are vegan, and DF
The red cabbage, carrot sticks and red onion slices are pickled, the sweetcorn is charred to make this Sweetcorn Slaw super tasty... It has fistfuls of fresh herbs, some chopped cauliflower and a creamy mustardy mayo to finish... Vegan, GF, and DF depending on the mayonnaise you use. 
Chicken with salsa verde is so simple it feels like cheating. There's a reason for that... someone else will do the hard work of making the salsa verde (you can make your own if you have a pile of green tomatoes at this end of the season... Green Tomato Salsa Verde recipe), the most you'll have to do is cut some autumn veg into chunks for roasties to go with your chicken. This one is DF and GF
This is a slow cook, so you could make it in the slow cooker if you're out all day. The beef is blade or chuck - makes for an unctuous deliciousness when cooked slow! The sauce is thickened with tahini rather than flour, and the flavour profile is quite a complex blend of spices and some red wine vinegar - Palestinian Beef is DF and GF. 
And that's it for this week...