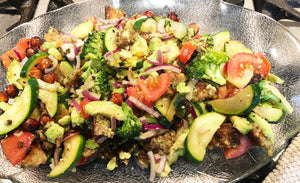 Food for a relaxed weekend - 15th April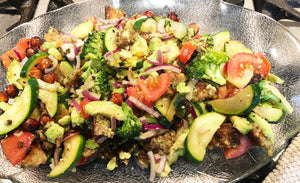 Take some broccoli or broccoflower, toast it with some hazelnuts, and then just add layer on layer of texture and flavour - softened red onion, crisped up grainy croutons, chunky avocado and tomato... is a good time. Roasted Broccoli and Hazelnut salad. Vegan, DF and GF
So the forecast for at least some of this long weekend is a bit on the cold side, which is where this Spicy Tomato and Lentil soup comes in... Spices are garam masala and paprika, with as much chopped fresh chilli as you wish - or cayenne - some ginger and garlic, red lentils, spring onion and parsley to finish. Done. Vegan, DF and GF
We were talking the other day about someone mistaking a kale pesto for basil... turns out this one uses both! Kale (and basil) and Cashew pesto with some of Artisan Pantry's fab fresh pasta is so quick to make, and really tasty. Vegetarian (or vegan and DF depending on the cheese you use).
I have to admit this started out as some leftovers, and then it was so good I had to reverse engineer it into its current form... The contrast of cooked softened spring onions and the crispy ones on top is fun, and the creamy polenta-based chowder is very satisfying. So this is a Pumpkin and Polenta chowder with spring onions.  Vegetarian (has milk and cheese hiding in there) and GF
The good news is that we have chorizo from Outram Butchery. The other good news is that we have fresh pasta from Artisan Pantry. There is no bad news. This was a quick and delicious combo of onion, chorizo, garlic, fresh chopped tomato and courgette, some fresh chilli, kale and loads of grated hard cheese. Yum and YUM. Fresh pasta with chorizo and summer veg - while we still can...
I made this in the slow cooker; you could make it in a tagine if you have one, or a heavy casserole on a stovetop, or in the oven. I did transfer it to a heavy frypan and reduce the liquid once the meat was tender. Whole cinnamon quill, coriander, ginger and a pinch of cayenne make for a very aromatic dish. The quinces give it tang and texture, and substance.The meat is Lamb - I used boned out leg steaks, shoulder would also work well. Lamb and Quince tagine. DF and GF.
 I hope you have a relaxing weekend...