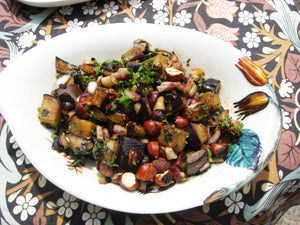 Asparagus AND a three day weekend... it's going to be great! Recipes for 21st October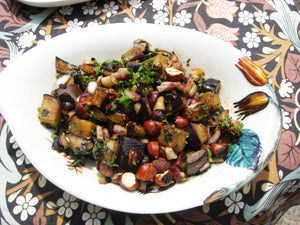 This eggplant and herb bowl is super quick - under 20 minutes all up - and full of contrasting textures and flavours! Crispy hazelnuts, velvety smooth roasted eggplant, fresh red onion bites, warm flavours (Cumin, honey) and zingy flavours (Lemon and cider vinegar) finished off with mint and parsley... This one is Vegan, DF and GF
Kumara and Chard curry is aromatic rather than spicy hot - there's fresh chilli but how much you add is entirely up to you! There's tomato puree, coconut milk, a spice blend of turmeric, coriander and cumin... would be great with either rice or flatbread. This one is Vegan as well as DF and GF (Depending on your accompaniment)
This seems to me to be a great holiday food. It takes a little more time but also it could be fun to make with family involvement (which can also take a bit more time and lead to hilarity). The potato mash is reinforced with rice flour and cornflour, then wrapped around wilted chard, capsicum and mushroom. Seasoned up with some garlic, oregano, cumin and gochujaru (red pepper flakes). They are seriously good. The Stuffed potato cakes are Vegan, DF and GF.  Also quite fun.
The asparagus has to make an appearance, yes? I discovered that the honey and soy drizzle sauce for the tofu is also very fine on the asparagus... This one will also only take about 20 minutes and is super simple, also very good... cube the firm tofu, dredge it in cornflour, bake it until crispy on the outside. While that's baking melt honey, garlic, soy and some freshly ground black pepper in a small pot and also separately cook the asparagus til bright green and still crunchy. Then compile. (spring onions and sesame seeds to make it pretty...) The honey garlic tofu is Vegan, DF and GF
This one seems quite luxurious but it uses only a small amount of salmon and the results are worth it I reckon! Rather than onion as a starting point i've used leek which is more subtle; rather than stock I've used lemon pepper, rather than using whole salmon chunk I lucked in with salmon mince at the place round the corner! The feta crumble is entirely optional but I quite like the sharp salty contrast. Frozen peas are always a win... The Salmon and pea risotto is GF and if you opt out of the feta, also DF
These are messy to eat. And slow to cook - the slower the better. And SO DELICIOUS. The recipe uses strips of orange peel for sharp and aromatic flavours infused through the beef (this is a French trick I think, found in traditional daube de boeuf recipes...) Sticky short ribs are great in the slow cooker so you can head out and enjoy the day, and come home to unctuous deliciousness... I'll investigate to see if I can find GF hoisin but at the moment this recipe is only DF.