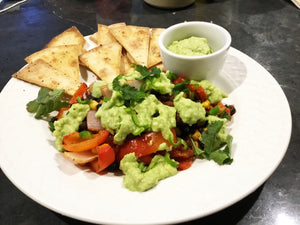 Recipes for the last weekend of October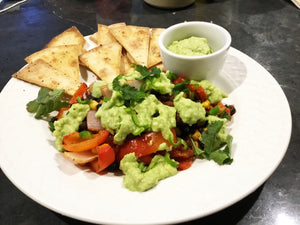 This is a generous platter to share - roasted capsicum with black beans, whole kernel corn and spices, toasted tortilla wedges (remind me if you need the corn tortilla to make this GF) and a loose avocado dressing. Cajun mess with Tortilla is Vegan, DF and GF(with the corn tortilla)
These nifty potato stacks are full of flavour - the thinly sliced potato is mixed with finely shredded rosemary, red pepper flakes (Gochujaru) and either parmesan/pecorino or yeast flakes. You put roughly vertical stacks into muffin tins, and into the oven for an hour while you do something else. The Parmesan potato stacks are Vegan DF and GF if you go for the yeast flake substitution.
And back to Louisiana for Dirty Rice - long grain rice, adzuki beans  (Less carbohydrate, more protein than other types, also don't need soaking!), whole kernel corn and then red onion, spring onions, garlic, chilli, oregano, cumin, Annato powder - I was so excited when I found this ! - some tomato puree and fresh coriander. SO MUCH FLAVOUR. And it will only take about half an hour cos those adzuki beans are really quick... This is Vegan, DF and GF
This is a very simple thing - a stir fry of big fat slices of portobello mushroom, and fresh as asparagus... a splash of mirin, a tiny splash of Tamari, and a sprinkle of sesame seeds. Done. I would happily just eat this for dinner, with some bread or maybe a baked potato... Stir fry of Asparagus and Mushroom is Vegan, DF and GF
This is a slow cook special - marinade the lamb overnight, cook it all day in the slow cooker, and then have a leisurely shared platter of meat, maybe some lightly sautéed asparagus, flatbread, seared red pepper.... some of that avocado dressing from the cajun mess... Lamb Shawarma is DF and GF and absolutely meltingly delicious...
This braised chicken seems like it's slow cooked, but will take well under an hour to make - including all the other bits of the meal, cos they stack inside each other in the approved fashion! The chicken is glazed in a Tamari/cider vinegar/herb/garlic gravy, simmered to fall-apart deliciousness. The mushrooms cook separately so they retain their texture, and the mix of red and brown rice has real bite and nutty flavour... Braised chicken and mushroom fricassee is DF and GF