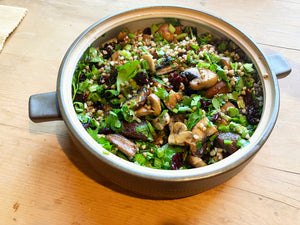 Mostly Asian flavours for the week starting 4th November...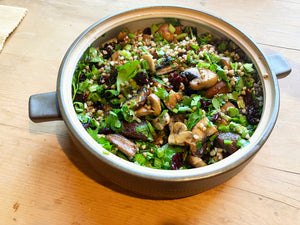 I do like buckwheat as a grain alternative. Toast it before you simmer it to develop a really yum nutty flavour profile... This dish also has big chunks of mushroom, lashings of spring onion (or onion weed if you still have it in your garden), some lemon and some garlic and chilli. Once again we have the stacking Russian doll school of cooking - while the buckwheat is cooking then cooling you do everything else and then assemble at the end. The buckwheat and mushroom salad is vegan, DF and GF
This is a simple and flavourful thing to do with potatoes - a bit of garlic, some chilli, coriander, roasted together with chunks of capsicum... Add a salad and you're pretty much done really! Batata Harra is Vegan, DF and GF and Yum.
The warm noodle salad uses soba noodles which are a mix of wheat flour and buckwheat flour. A substitution of rice noodles would work I reckon. The veg are lightly cooked and then marinaded while you cook the noodles - there are carrots, capsicum and asparagus in the veg selection, with spring onions and fresh coriander added as well. Toss the noodles and fresh herbs with the veg and the marinade and top with sesame seeds and chopped or flaked almonds. Has plenty of substance and is also excellent for lunch the next day (I've just tested this theory and is true). The salad is vegan and DF, and GF if you use rice noodles (Just let me know if you want these in your recipe kit)
So there's this version of the hot and sour soup, and a bit later there's a pork and egg drop version... This Hot and Sour Soup has jackfruit and tofu; also garlic shoots, minced ginger, button mushrooms... rice wine vinegar for sour, sriracha for hot. This one is Vegan, DF and GF
This is a bit elegant and absolutely delicious, also very simple to create and relatively quick! It uses brown rice, fresh salad greens, avocado, and a smoky mayo dressing. The Teriyaki salmon rice bowl is DF and GF depending on the mayo you use...
So this is the Pork and Egg drop version of the Hot and Sour soup - also has tofu in it, for three lots of protein! Garlic, ginger, mushrooms, rice wine vinegar for sour, sriracha for hot... This one is DF and GF. There you have it...