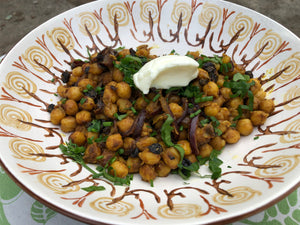 Vegan and vegetarian, pescaterian and omnivore... recipes for 11th November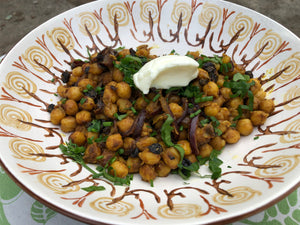 This curried chickpea salad is very simple and will only take about quarter of an hour to pull together, but don't let that stop you... it has red onion and flatleaf parsley, garam masala and a few currants plumped up I the cooking.... This recipe is Vegan, DF and GF
.
This is an interesting in-between kind of food: Not a soup or a curry, kind of a dip but more of a meal than that... you could serve it with flatbread (or some other scoopy alternative) and a salad and that would be a complete meal... It's a split pea puree called Fava - half of the cooked peas are pureed, the other half folded through for chunky texture. It has caramelised onions, capers, lemon, chives - so some zingy flavours to balance the smooth creaminess of the puree - is a good time! Fava is also Vegan, DF and GF.
The Herby Rice is Very Green - loads of fresh herbs blitzed with a fresh chilli (as much of that as you want) and water... the rice is toasted in butter or olive oil, the pine nuts add their richness to the mix...  then you add the herb/water puree, cover and simmer... it's all done in less than half an hour. This one is also Vegan, DF and GF if you go for the olive oil rather than butter...
There are a few steps in the process to make polenta sticks - make the polenta, cool, cut, dredge in cornflour, shallow fry, drain - but absolutely worth it! The polenta sticks DO have grated cheese - however you could grate up pecorino  (sheeps milk cheese) to make these delicious crispy treats DF. The salsa is a cheap and cheerful mix while you wait for the polenta to cool... Vegetarian, DF (depending on your cheese options) and GF.
"Don't come the raw prawn with me" is a weird phrase that has unfortunately linked itself to this recipe in my head... I'm not even sure what it means! The prawns with orzo are NOT raw; they are very simple and pretty quick - half to three quarters of an hour - and it doesn't take many prawns to make the meal sing. The orzo is a rice shaped pasta and the recipe also has feta crumbled through it, so this one is none of the things! However, I reckon we could sub actual rice for the orzo and fresh goat's cheese for the feta, so if you're keen and need substitutions, just let me know...
These cute little meatballs can be made using pretty much any kind of mince - chicken, pork, venison, beef, turkey! The recipe calls for bread in the meatball mixture, and egg. You can tuck these little into wraps or rolls, have them with rice or pasta, polenta or mash... so handy! The poplettes with tomato and spinach ragu are really none of the things, but if you choose the bread carefully they can be both DF and GF.