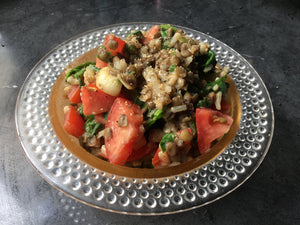 Middle Eastern flavours + Thai... recipes for the 18th of November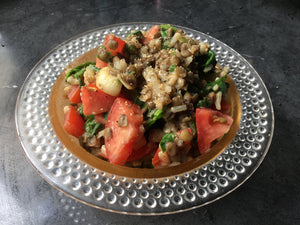 Rishta is a fresh-flavoured combo of salad bits (tomato, parsley, some lemon) with brown rice or orzo, lentils, onion and garlic, and some finely shredded kale. It's quick, well rounded and a great go-to for these intermediate days where it MIGHT be hot and then suddenly it's not. Rishta is vegan, DF and GF ( so long as you go for the brown rice version)
This Iranian Veg stew has some interesting ingredients - dried limes are top of the list for interesting, and then there are currants soaked in lemon juice... plenty of sharp flavours in there to balance up the potato and pumpkin. Also tomatoes, spinach and loads of aromatics. This one is also Vegan, DF and GF
I saw that there were pomegranates available so I have popped this one in - it's very pretty as the name suggests - Jewelled Quinoa.  It has dried apricots, flaked almonds, mint, sesame oil and lemon and of course pomegranate. And Quinoa. It has a lot of zing, and is Vegan, DF and GF.
This is Hunza Pie - a combo of chard, red rice, cottage cheese, ground almonds and feta, with garlic, onion and basil thrown in.  Someone asked me once if it had apricots in it, which was perplexing... the Hunza region in Northern Pakistan is (it turns out) home to small wild apricots, that are left on the tree to dry before harvesting. No apricots in this Hunza Pie however. The pie is Vegetarian and GF and very yum.
I made these mini Meatloaves in a rectangular muffin tray, creating handy single serve meatloaves for dinner and then for lunches. Rather than use packet sausage meat, I extruded some very good pork sausages and combined that sausage meat with the beef mince to make a very tasty thing. There are also secret vegetables and some oregano to give it a solid helping of extra flavour. The recipe calls for some bread in the mix also, so you would need to use GF bread to make these GF. They are also DF.
The Thai fish curry is aromatic rather than spicy, relatively quick to make, and will use whatever veg you have on hand really, so a very forgiving recipe! Use a firm white fleshed fish - you cut the pieces into fingers and steam them on top of the curry when it's nearly done. Light and delicious...is DF and GF.