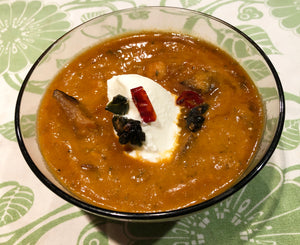 recipes for the week of the 25th November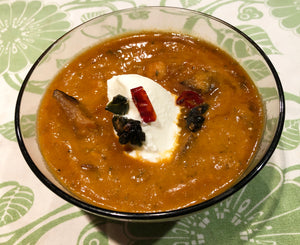 The weather is still a bit unpredictable so here is a thing that can either be a very hearty soup, or a vegan stew - depending on the day and how you feel about it. Eggplant, chickpeas, Lebanese 7 spice, tomato x2, fresh chilli - the Eggplant and Chickpea stew is substantial, delicious and fast ... It's also Vegan, Dairy and gluten free (If you omit the splok of yoghurt at the end)
There are a couple of recipes this week featuring new potatoes - this is getting a bit ahead of myself, as they're not yet available from our main suppliers! But for this I will make an exception: a superbly simple and sublime salad of new potatoes, lightly cooked asparagus and a lightly poached egg broken artistically on the top. Dip the asparagus in the egg yolk... yum and yum. To make this vegan you could sub some mashed avocado for the egg. Otherwise this is Vegetarian, DF and GF
This is from a book called Salad Feasts, and you'll be hearing more from this book, definitely! It has asparagus, butter beans, peas, toasted pine nuts and a yoghurt dressing (can be coconut yoghurt) with fistfuls of herbs and a splash of lemon. Shavings of parmesan optional also, but are a very good addition. (Again, can sub pecorino which is a sheep's milk hard cheese). The butter beans with peas and asparagus are vegetarian and GF but can be Vegan and DF also with a simple substitution of coconut yoghurt. Let me know when you order if you would like the vegan version.
These kale and cheese pikelets are NOT vegan, nor are they GF (Although you may have some clever GF flour on hand at home) nor are they DF. They are very tasty... they do have eggs, flour, yoghurt, cottage and hard cheese however. Vegetarian only. Sorry...
Sichuan double cooked pork belly is very yum. It's a stir-fry of leek, spring onion and pork belly that's previously been boiled with aromatics, then chilled, then cubed. It did not include the mouth-numbing Szechuan peppers and I did simplify the recipe a bit also - the overall effect was still very good! This one is DF and GF.
This is the other new potato recipe - cubes of chicken coated in chickpea flour and sautéed til crispy perfect, new potatoes, zingy salad greens and lemon... that's pretty much it really - why mess with something that's already so good, right? The crispy chicken and new potato salad is DF and GF.