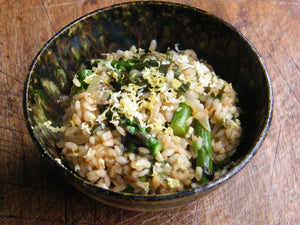 Asparagus is in town - recipes for 14th October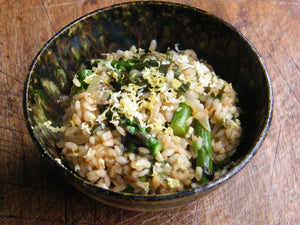 This simple and effective risotto celebrates asparagus and the lemony bite of fresh sorrel.  It will take at most half an hour to make and is very very good. Asparagus and sorrel risotto is also Vegan, DF and GF
Caponata is a Sicilian dish full of flavour  - has eggplant, red onion, main crop potatoes, garlic, tomato, green olives, capers, marjoram and more. Again, this will only take about half an hour to make, is Vegan, DF and GF
I made a dangerous discovery the other day - the Books for Sale section at Dunedin Central library... predictably I found a recipe book and brought it home for a thorough read through. It is STUFFED with paper slips, so a good investment! This is one from there - a roasted chickpea and bulghur salad. I think buckwheat would be an excellent substitute for the bulgur to make this gluten free.  It has red onion, lemon, bayleaf, cumin, smoked paprika and turmeric, a pinch of cayenne and somer flatleaf. The cooking of the grains and the roasting of the chickpeas stack inside each other timewise, so this will take about half an hour total. Vegan, DF and with the buckwheat sub, GF. (Just let me know when you order).
This green olive frittata comes from the same book - it has pine nuts and cottage cheese, and fistfuls of fresh herbs. Also eggs, obviously.  It's tender, substantial and the pine nuts give it really interesting texture. This one is Vegetarian and GF 
This recipe for Aromatic poached chicken delivers really tender and moist chicken white meat, with delicate aromatics infused throughout. Then you can do all sorts of things with it! Summery wraps, delicate quiche or open faced tarts, light chicken broth with noodles and veg swimming along (singing a song?). The poaching is remarkably quick, and the poaching liquid make a great aromatic broth. This particular recipe includes wraps and some salad additives, the rest is up to you! The poached chicken itself is Dairy and Gluten free, if you'd like GF wraps just let me know.
Fennel seeds roughly crushed and crusted onto the pork fillet, bulb fennel braised and caramelised gently in the frypan - it's Pork with Fennel Twice (It probably has a more sensible name also). It takes a little longer than the other recipes this week -perhaps as much as 45 minutes - to maximise the tenderness of the pork and the sweetness of the bulb fennel. This one is also DF and GF.