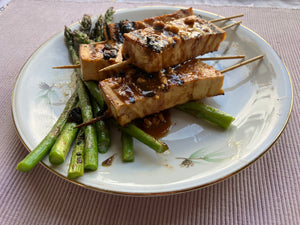 Recipes for the first week back at school - fast and tasty for 7th October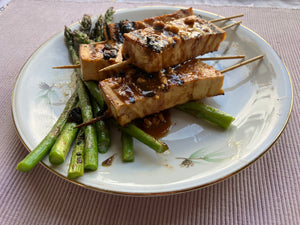 I know the asparagus looks great, and it is on its way, but it's NOT HERE YET! So this recipe is actually all about the satay tofu skewers. Things that make this great midweek food for the new term? It's food on a stick! It will take you less than 20 minutes to make, it's vegan, its tasty...also Dairy and Gluten free...
My notes say this one takes less than 10 minutes to put together; my daughter says this is one of her favourite fast food options - faster than fast-food. It's a simple and delicious combo of cucumber, avocado and chickpea, with a herby kick from mint and potentially also coriander. The Cucumber, avo and chickpea salad is Vegan, Df and Gf.
Janefield Hydroponics have rocket for us this week, so I went hunting for a quick and simple recipe to make use of that fresh peppery goodness... and here it is: a straightforward pesto of rocket and cashews, with pasta - a splash of lemon juice, a few shavings of parmesan optional; (you could opt for pecorino if you're dairy free - pecorino is made from sheeps milk). If you need something red or yellow to go with, you could roast up some carrots with a dash of honey and some cumin.... This one is vegan if you omit the parmesan/pecorino, Dairy free if you do the pecorino substitution, and gluten free is you use a GF pasta. ( it looks like I made this bowl with dinosaur pasta... I think I can see a stegosaurus in there...)
Greek egg and lemon soup is one of my (many) favourites - this one has leek in it as well cos that also is a bit of a fave. So it's Leek, egg and lemon soup. The egg is beaten through the cooked soup right at the end and the soup is great without it, so you could have the vegan version, or add the extra oomph of a slightly custardy finish (This may not sound very appealing actually...). This one has leek, rice, lemon cooked together and then pureed. At this point you can add the egg or not... It's dairy and gluten free, Vegan or vegetarian depending on the egg situation.
Lamb or hogget chops baked on a bed of roasted leeks and cannellini beans... it's creamy and delicious! The leeks are flavoured generously with garlic and rosemary - the perfect pairing with lamb. At this time of year I think the year-old lambs - hogget - are most likely. They're super tender and have a bit more flavour than the new season's lamb you might get at Christmastime.  This one is Dairy and Gluten free. 
Beef and broccoli with ramen is again a super quick tasty meal that everyone will enjoy, and would take you less than half an hour of distracted preparation and cooking. I'll make sure the oyster sauce is gluten free (trick for young players!). this tasty number is also dairy free... and there you have it...