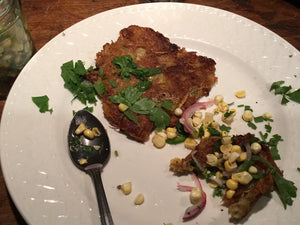 Autumn is making itself felt... heading into the fourth week of March!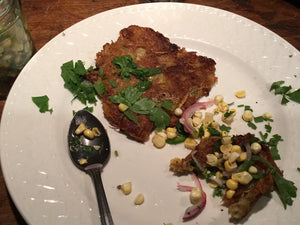 These crispy potato pancakes were really just a vehicle for the fresh corn and red onion pickle... but they are very more-ish! Of all the food I made in the Development kitchen this week, the pancakes were the hardest to stop nibbling... as you can see, they do also go exceptionally well with the corn pickle...
This roasted beetroot salad with sunflower seeds and feta is simple and delicious, makes the most of autumn veg starting to come on the seasonal scene... So as well as the roasted beetroot, toasted sunflower seeds and chunks of feta it has baby chard leaves and a dressing that brings out the sweet and savoury flavours of the vegetables... 
Next up is Moroccan eggplant and quinoa. Again this has lovely warm flavours from the Moroccan spices and the roasted eggplant... mmm
This week's meat recipes include lamb kofta with Persian tabouleh  - the tabouleh has dried apricots and walnuts through it; kofta  (known as Meat-on-a-stick in our household) is easy to make, makes a small amount of meat go a long way, and is fun to eat although pointy sticks at the dinner table can be hazardous...
This has a fancy Italian name but lets just call it Roll-ups with Ragu!  You make a super tasty pork mince meat sauce (ragu), then while that's simmering you peel strips off a courgette then roll them around your fingers to make a tube. Put some of the ragu in a baking dish, poke the tubes upright into this then put the remaining ragu into and around the tubes, top with cottage cheese and grated cheese and bake. It was SO GOOD! And such fun to make... here's another action shot:
You could make the sauce using cannellini beans and have a vegetarian version ...
Hope you enjoy these as much as I have!