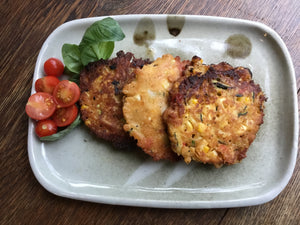 Heading into Week three of Autumn and it feels like it!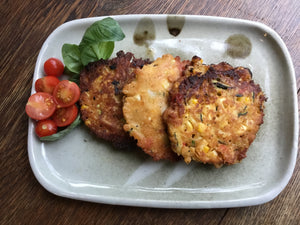 This first recipe is a corn and chilli fritter but I've been calling them pikelets in my head because they just seem is a bit more pikelet than fritter... kinda. There's fresh chilli, courgette, corn, chickpea flour, egg and milk ... so gluten free, and could easily be dairy free by judicious application of non-dairy milk ... 
Next up is a Vegetarian Mograbieh - which is a Middle Eastern term for the pearl couscous used in this salad... It has hazelnuts, chickpeas, coriander... really simple but very tasty!
This is a deeply satisfying thing - Ethiopian Peanut Stew. Warming, creamy with mashed kumara and cannellini beans, loaded up with fresh ginger and garlic, and a fistful of chard... and peanut. I think all you'd need would be some good bread, and hey we can help with that...
I think the photo doesn't do this justice, so I may just make it again and take another photo...Peppered pork with an apple slaw. It's tender and juicy, crusted with crunched pepper. The slaw is really simple, crisp and fresh... a great combo.
This has been a family favourite for ages - we used to watch Antonio Carluccio on TV on Friday nights about 20 years ago, and I think that's where we learned this one! Good sausages - venison, or pork and fennel - go a long way when accompanied by lentils, red wine or tomato, bayleaf and a bit of time (Thyme would also work). So this is Italian sausage and lentils. It is what it says it is...
Thats it for recipes this week - plenty in there to warm us through the cooler days I hope!