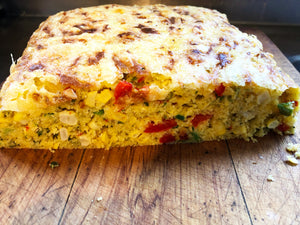 There's corn - let's make the most of it! Week 1 of March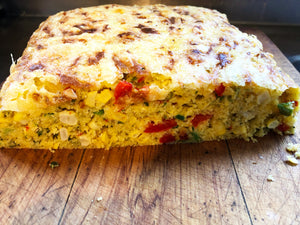 So this first recipe is for a simple oven-baked Cornbread stacked with veg. It was really easy to make, and we ate far too much of it because it is just so tasty! Light too, and very moist. I reckon small people would be keen on this one... and it'd be really handy for lunches.
The Potato and Spinach gratin has a crunchy topping of toasted pumpkin seeds... we'll be using NZ spinach for this one, it has a great texture and more substance than the usual sort...
We said we'd make the most of the fresh sweetcorn, and we meant it! This is a sweetcorn soup topped with roasted cherry tomatoes. The soup is smooth and creamy, the tomatoes are a real hit of crisp and tang. Is very good...
Butterflied chicken with paprika and lemon is very simple, and extremely good. I'll give you instructions on how to butterfly a  chook (easy), you lay the flattened bird on a bed of onion and parsnip chunks, sprinkle it with with smoked paprika and lemon zest, tuck the wedges of lemon strategically about the bird with a scatter of garlic cloves in their skins (also easy) and put it in the oven. Thats pretty much it really. 
I went to make a smoked fish pie (ultimate comfort food) but couldn't find any humble smoked fish such as hoki... so I got smoked salmon and went with that instead. The end result - Smoked salmon fish pie - is a bit of an upgrade on the comfort pie I was looking for, and it worked really well. It has broccoli and pumpkin, and roughly mashed potato topping. Is a winner.