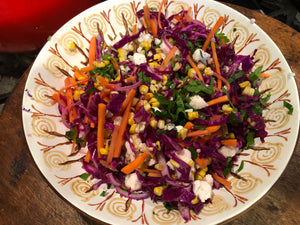 Is the locally grown corn here yet? We hope so! Week 4 February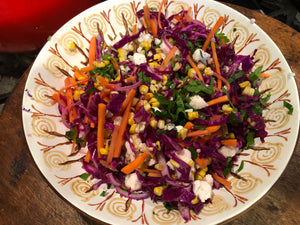 This Sweetcorn slaw has charred chunks of sweetcorn as well as hits of fresh mint, loads of colour and crunch from the red cabbage and red onion, and the carrots! Yum. 
Was excited to see halloumi at the Holy Cow chiller the other day, so let's make use of it while it's there... This simple but effective Tomato Halloumi bake has layer on layer of vegetables, topped with a layer of halloumi... so it's packed with flavour and veg goodness!
Saag curries are my go-to favourite - lamb, potato, paneer ... it's always a good time. This Saag Aloo has chickpeas as well for a bit more substance.
This Bacon and Corn Chowder also has chunks of chicken and it's stacked with vegetables - a meal in a bowl (or wide cup in this case). 
And finally a slow cooked beef with pappardelle.  Papardelle are a wide egg pasta noodle; the beef is braised slowly and reduced to silky-tender shreds that you then stir through the pasta, and serve with a crisp salad. So easy... so good...