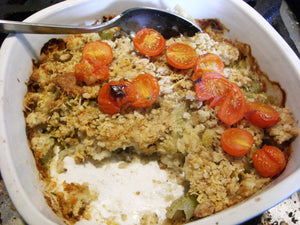 This week's recipes come to you from Wellington - final week of March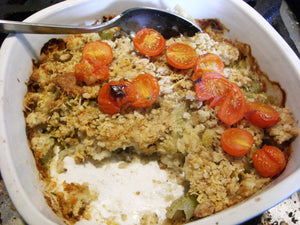 So first up we have a recipe for fennel crumble, topped with grilled cherry tomato halves.... This is creamy, full of flavour and savoury crispy-ness.
Next  there's bean and mushroom with cauliflower pasta - the cauliflower IS the pasta, and the bean and mushrooms are stirred through, topped with grated cheese if that's your thing...
This Emergency soup can be vegetarian or not - so it counts for two options at once! It can be put together in 5 to 10 minutes (seriously) and tastes great. Has Cannellini beans, tomatoes, lemon pepper, and a handful of flatleaf parsley. That lemon pepper will be in a small jar enclosed in the Locavore Box, or included in a tin of lemon pepper tuna which is also very good in the soup!
And the final meatarian option is Beef and broccoli with ramen -  this is very straightforward and very flavourful, quick to make.
Now you can see what I mean...