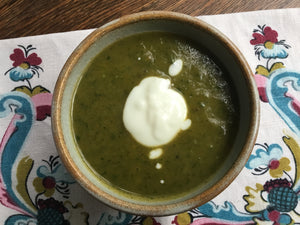 Recipes for Easter week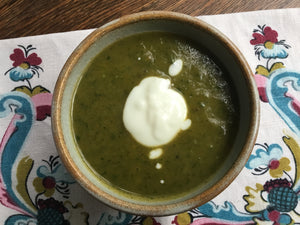 This Kumara and spinach soup is super easy and very comforting. GF and DF, can be vegan if you use appropriate stock... I've made it with home-made chicken stock (superb) and with stock cube vegetable stock and it's still very good!
The incredibly vibrant green here is created by the watercress salsa! So this is polenta with broccoli and hazelnuts, and a watercress salsa! It's GF, can be DF  and vegan if you make the polenta with vegetable stock or non-dairy milk... The peppery hit from the watercress goes very well with the broccoli.
And then there's spiced parsnips with quinoa... Again, this is super easy, and full of warm comforting flavours - the parsnips are sweet and tender, spiced up with smoked paprika and cumin. The quinoa brings loads of nutritional value and its own nutty flavour, and then there's a handful of pine nuts to finish it off.. yum
The Peru Hotpot can be either vegetarian or meatarian. It has eggplant, and  loads of other vegetables - great for using up bits in danger of being left in the fridge! There's grated kumara, and then an egg gently cooked on top. Is very good... The meat version uses mince (you choose which sort) instead of the eggplant.
The Sichuan Beef with wilted greens looks fabulous, tastes as good as it looks, and is (just quietly) very easy to do. It's what you want on a holiday weekend, yes?