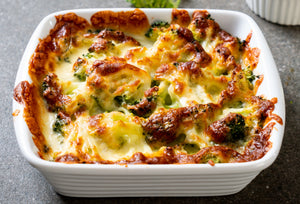 Brassicas have come to play - recipes for week 2 of April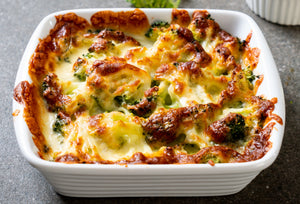 So the first recipe is for a Cauliflower and Broccoli bake. Light, tasty, quick and really healthy! Rather than cheese it has a lemony egg sauce that bakes up crisp and golden... Is DF and can be GF and is vegetarian rather than vegan.
this may be the last week for fresh corn, so lets make the most of it... Corn and Cauliflower hotpot also has tomatoes, courgette, spring onions, and it's packed with colour and flavour from spices as well... is a good time. 
If you have people in your household who really don't like kumara, you can sub in potato as the base for this tasty treat: Baked Kumara, stuffed with cottage cheese and a fresh corn and cherry tomato salsa. 
Actually this Chicken with Salsa verde is so easy ... it is entirely what it says: put some chicken with some salsa verde and bake it. Done. And then you  make yourself a salad... toast some tortilla...how easy is that?!
Its still possible to get new potatoes, and worth it as a farewell nod to summer...This spice crusted lamb is very simple, because we'll make the spice blend for you...
And that's it for this week...