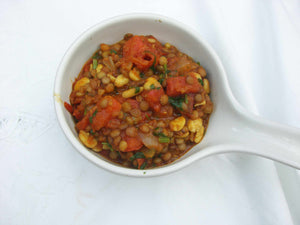 A couple of curries and a lentil stew ... recipes for the 17th of April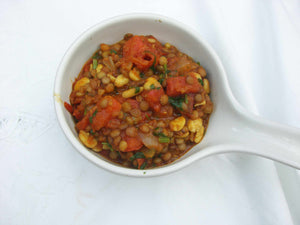 This is the Lentil Berbere stew - It's a hearty one pot wonder, Gluten free and vegan. Also only takes a half hour to make, which is definitely a plus. It has lentils, dried fava beans, tomatoes and some Berbere spice which we will tone down - you can add extra chilli at will!
This is a simple pumpkin and potato soup, topped with toasted seeds. Again, so long as the seeds are tossed in Tamari rather than soy it is GF, and also vegan. (Dairy free also, just so you know...) It has a good amount of zing from fresh ginger and garlic...
The Third vegetarian/vegan option is an Adzuki Bean curry...  Again, loads of spices for flavour rather than heat. Adzuki beans are great because you don't need to soak them overnight (some soaking will improve them but is not essential). They have more protein and less carbohydrate than other beans, and they cook relatively quickly as they're smaller. 
This is a Goan fish Curry. I served it over rice with broccoli and fresh corn kernels cooked through, but that's just me trying to fit more veg onto the plate .... This is a creamy yellow ( from the turmeric) curry, with a light lemony flavour ( due to the tamarind...) The fish was just cooked, so moist and flaky. Was very good! Goa is a coastal city in the south of India...
These wee meatballs are moist and tender because they contain apple as well as fresh marjoram and pork. It's a quick cook, and if you want to add some spinach to the mix you have all the colours in one hit. Again, quick, simple, delicious. 
And there you have it. If you're looking for rainy weather inside things to do over the school holidays may I suggest the flatbreads/ sticks to have with soup? The same dough also makes excellent pizza bases ... you'll find it here: