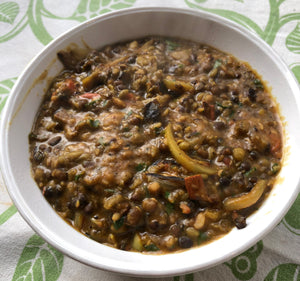 Comforting curry, crumble, soup, and more... recipes for 10th July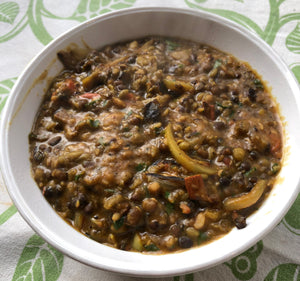 This first recipe is for a Black Dhal... uses Urad dhal and mung beans, stacked with flavour but not too much heat...
This next one is a buckwheat vegetable crumble. It's pretty much a roasted root vegetable combo, with a buckwheat crumble topping ... you can swap out the grated cheese in the topping with tofu for a vegan option. The crumble topping is unusual but very good!
Apologies - maybe - for going on about using Granny Smith apples in savoury dishes, but this is an excellent example : Roasted carrot and Apple soup. You simply roast the carrots and wedges of apple together, blitz them (cashews as well) and you have a most excellent taste adventure...
As luck would have it, we even have the sprout salad to go with these Chicken burgers this week! There's sesame and ginger in there, they're light and delicious... perfect school holiday food...
There's an Italian biscuit called Brutta ma Benne - ugly but good! I think slow-cooked lamb shank falling off the bone qualifies for that title also...
The lamb shank is slow cooked with apple (again, I know) and rosemary - deceptively simple, but when you mash the cooked down apple into a gravy with the cooking juices from the lamb, it is a Very Good Time. Served with a pumpkin mash spiced with freshly grated nutmeg, and some lightly cooked greens, perfect!  A bit flash, and very easy.