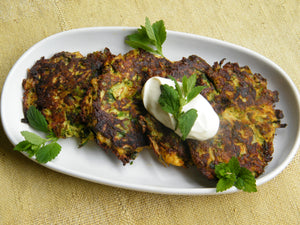 Eating happy in the lead-up to Christmas - 5th December options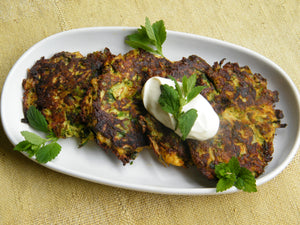 These are courgette cakes - flavoured with cumin and lemon balm. So fresh and so easy to make!  They were great today for lunch, would work for Barbecues or as a side or breakfast ... they're very good. 
Last week we had the first cucumbers from Kakanui Produce... so this week we have this great salad: Cucumber, avocado and chickpea. A bit of mint, and drizzle of olive oil... that's really all that's required. Hey, you have the recipe right there!
This Buckwheat and broadbean salad has walnuts, radishes and a fresh vinaigrette dressing. It's very easy, and you can sub out edamame beans for the broad beans if you wish. The broad beans are fabulous though, cooked lightly and then with the outer skins slipped off... takes a bit of time but so worth it!
This one is a bit fancy, but with brown rice, salad, avocado and salmon it is of course Very Healthy. Also Very Simple and Very Delicious, as well as a bit fancy (as previously mentioned). Put Teriyaki Salmon salad Bowl on your holiday food list... 
These tiny meatballs are super cute! Poplettes with tomato and spinach ragu can be made with whatever kind of mince you prefer. The spinach is coming from Oamaru Organics this week, the pasta from Artisan Pantry. Yum.
And there you have it!