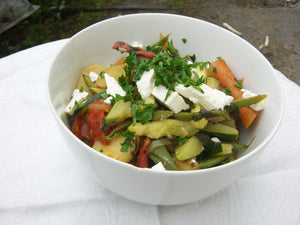 Exactly a month til Christmas... holidays, food, favourite people!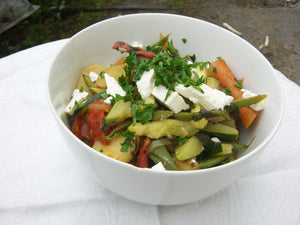 I didn't mean to scare you, but I have a pile of family coming so I'm pretty excited about that! The recipes this week are ones you may want to keep on hand for the holiday season - full of summery flavours, some of them are a bit flash, some of them are very relaxed, take-to-the-beach-as-picnic food.
The first one this week is called Giambotta, and it's an unassuming vegetable stew really - new potatoes, carrots, courgettes, tomatoes, some beans (Broad beans this week) poached in vegetable stock... and it's really good!
This Black dal has warming flavours, a great combo of urad dal and mung beans, it's quick and deeply satisfying. And as always with a curry -  even better the next day, so make a generous amount and you'll have lunch sorted!
I made the Crustless Chard and Feta quiche in Texas muffin tins and they were perfect for work lunches/school lunches/picnic lunches. You can make these with chickpea flour and they'll be gluten free ... use sheep's milk feta and they're dairy free too. 
This one is a bit flash, but very light and quick to make : Salmon poached in miso, with noodles and broccoli rice. The salmon is poached in miso broth while the noodles are cooking, you grate up the broccoli and add to the noodles, cook, plate. Easy. Done. So lovely!
I did a sneaky thing and made the meatloaf using good quality pork sausages rather than a tube of sausage meat...much better outcome! The Meatloaf is accompanied by some spring colcannon and relish... altogether a great time! You can slice the meatloaf cold for sammies or rolls and again it's really good as lunch at work, school or beach.
Our aim is to make your food for the next few weeks easy, delicious, interesting and versatile... Let me know how we get on!