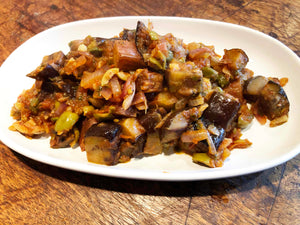 Recipes for the week starting 21st November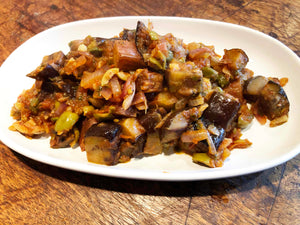 I made something with cubed eggplant the other day and thought "Caponata?" Turns out what I had made bore very little resemblance to a real caponata, and even this one has a random addition of potato, but it does work very well. Caponata has eggplant, onion, garlic, olives and capers, loads of marjoram and a splash of red wine vinegar. This one also has a moderate amount of potato!
This is very simple and quick to make and got a Big Tick from our development kitchen audience of one. It's Pearl Couscous with spinach and mushroom, and it very much what it says....Also has red onion and garlic, and a splash of vegetable stock, and that's all! So tasty
These wee things are very straightforward - most of the making happens in the food processor. They're corn cakes and they'd be ideal for lunches or picnics, or a snack kind of dinner or lunch - great finger food to take out to a shared meal... they have corn, red onion, garlic, tarragon, cumin and fennel. The light and fluffy texture is due to whisking the egg whites and folding them in at the end. Would be very easy to make these gluten free also...
These Chicken Burgers have ginger and sesame seeds, spring onions... the texture is light and they're full of flavour. And really versatile, you could stack them inside a bun with lettuce and that Vietnamese pickle you made last week, or have them with a salad...
This is a Slow cooked beef with mushroom. It's cooked in the slow cooker or on the woodburner or however you do slow cooking at your place... the cross cut blade beef becomes meltingly tender in slow cooking, and in this case it's cooked in dark beer or stout, with mushrooms. You know it's going to be a winner... and you can balance that up with some new potatoes, maybe some wilted asian greens...
And there you have it! Oh, and this is what the corn cakes look like on the inside...