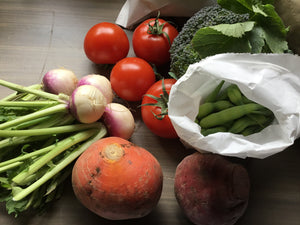 What does a box from Locavore look like?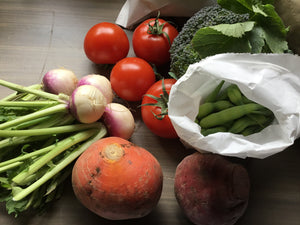 On Saturday we packed boxes with loads of fresh springy vegetables and fruit...
There were tiny baby turnips from Mihiwaka Organics along with some of their spring onions; there were beetroot and multi-coloured carrots from Ettrick Gardens, new potatoes and daikon radishes from Caithness Farm and broccoli from Oamaru Organics. 
We had Bok Choi and mixed lettuce leaves from Janefield Hydroponics, and from here at Hamilton Bay we had daikon seedpods, miner's lettuce, golden marjoram and the last few tamarillos. Apparently someone else enjoys the miner's lettuce also! (no sprays, demonstrably...)
Pauline the Citrus lady supplied oranges, lemons, grapefruit and limes direct from a small orchard outside Gisborne, we had avocados from Katikati, honey from BL Beekeeping out on the Taieri and milk from Holy Cow up the hill here. There were apples from Earnscleugh orchard in Roxburgh also.
The eggs came from Piwakawaka Farm at Taieri Mouth or from here.
And then there were tomatoes grown at Kakanui, brown onions, fresh turmeric and garlic. That gives you a lot to play with for a week of cooking...
We also have fruit cordials - in the throes of making at the moment with elderflowers abounding, although today's wind is buffeting them about!
Each week there's a note in the box explaining where things have come from, and perhaps some suggestions on what to do with those less familiar things. This week there was a quick recipe for Vietnamese carrot and daikon pickle, on account of there being daikon and carrot in the boxes...
And we deliver for free within 10km of Dunedin's CBD... so there you go.