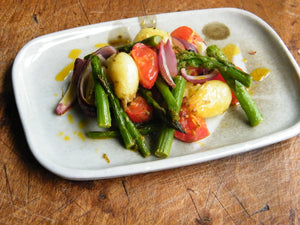 Springy recipes for the week starting 14th November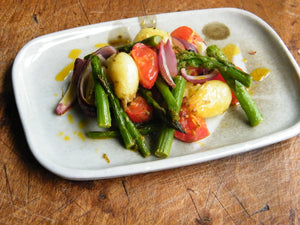 First up we have a deceptively simple pile-up of spring roasties - new potatoes, asparagus, red onion, tomatoes, if you can find kohlrabi so much the better! Simply delicious.
And if you have asparagus in your kitchen, you could make a risotto - asparagus and sorrel risotto in fact. This is lemony and light, easy and quick to make... Home-made lemon pepper delivers a heap of flavour too.
And lemon features a bit in this one too - a Lemony Pasta salad made with Risone pasta, cannellini beans, cucumber, rocket, mint... and lemon.
The Pork and apple meatballs in tomato gravy go really well with that pasta salad by the way. Dinner in the development kitchen was very tasty this week...
So pork mince, red onion, fresh marjoram, an apple all minced together in the food processor, and then spooned out into a hot pan, browned, then coated in tomato puree - I found a jar with oregano and chilli added - and left to simmer while you make the salad. Would also go well with the roasties pile-up. Just saying...
If you're looking for tasty things to go with salad and new potatoes, these are hard to beat ... Jamaican spiced chicken drums. So easy, so delicious.
And there you have it for this week...