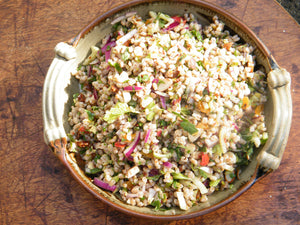 Pearl barley with Morrocan flavours, a carrot and chickpea satay and other tasty things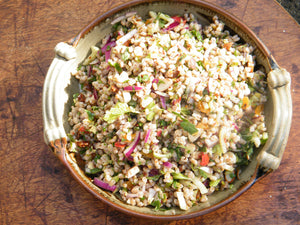 First up this week we have a Moroccan inspired pearl barley salad with spices and dried fruits, slivers of almond... yum.
This is a carrot and chickpea satay, loads of flavours but not too spicy. Has carrots, chickpeas, peanuts and coconut milk amongst other things... You can have it with rice or flatbread or a spoon...
We're going to celebrate new season's asparagus by teaming it with pine nuts and lemon, and some of the Artisan Pantry's fabulous pasta. So Pasta with asparagus and lemon pesto. Yum. That's the three vegetarian recipes for the coming week. 
Next up is an Ethiopian lamb curry. This is warming and complex with dates and pumpkin and bay to add depth to the flavours. Also seriously yum! It only needs about 100gm or so of meat per person, so also quite economical...
And finally, Thai fish curry. This is made with yellow curry paste and coconut milk, so it's fragrant rather than spicy hot. You can add whatever vegetables you have on hand, remembering to add them in order of how long they take to cook!