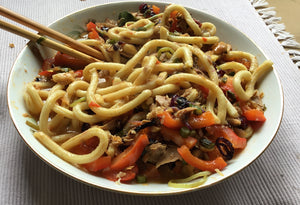 First recipes for 2022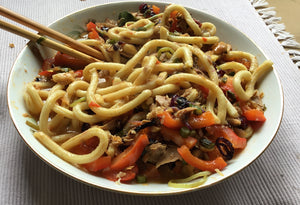 So what's the difference between Hokkien and udon noodles? Egg apparently.
 Both really handy to have in the cupboard, really quick and easy to work with - especially if you have the pre-cooked ones on hand! So I made a quick stir-fry of seasonal veg, amped up the flavour with sesame oil, rice wine vinegar and pomegranate molasses... it was very tasty. Twice. Because I always make too much food! Hokkien noodles with seasonal stir fry - Vegan, DF but not GF
This tomato and chickpea salad is very colourful, fresh flavoured and super quick to make. In fact you don't really need a recipe, you could just look closely at the picture and work it out... Vegan, DF and GF
These latke with Skordalia are looking a little dark - needs a new photo! But the flavour is  really good. Standard latke are potato only, but these ones are lightened up with grated courgette. The Skordalia is kind of like a mayonnaise made with pureed roasted parsnip - sounds weird? Tastes great! Vegetarian, DF and GF
Fourth vegetarian option is a bake with roasted chunks of courgette and tomato, with a surrounding bed of creamy custard - eggs, cream (!) ground almonds, sesame, sunflower and pumpkin seeds, some grated parmesan. Is very tasty, surprisingly easy to make, photo to come.... vegetarian, GF
Chicken with Cardamom rice... YUM! Thats all I have to say about that really. DF and GF. okay - it has cardamom, cinnamon quill and whole cloves, the chicken is bedded into the rice as the rice is cooked, is very very good. 
Steak Salad - chunks of porterhouse, well dusted with ground Szechuan pepper and salt and cooked just how you like it, a salad of many fabulous locally grown things - radish, tomato, cucumber, salad greens. And while the steak is resting you lift the pan juices with some cream (yes, I know) which may well split and that's fine. Drizzle this over the salad to dress it with unctuous flavoursomeness. Is GF only.