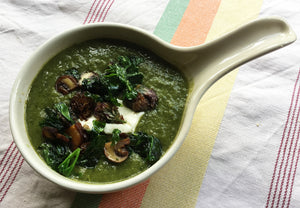 First recipes for the new year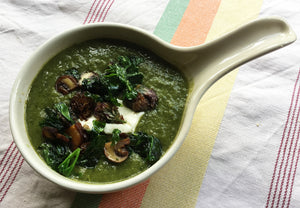 This is such a great soup I've sneaked in two versions of it this week: this one is a summer green soup with crispy mushrooms and spinach. It has whatever greens you can find - in our case courgette, kale, nettle and orach (a kind of proto-spinach) - with potato and onion. The mushroom slices and spinach tips are crisped in a hot pan and added right at the end for some extra texture...
The next vegetarian recipe is called Kosheri, and it's a Middle Eastern take on Kedgeree  - whichever of those two came first is immaterial. It has basmati rice and thin noodles cooked together with brown lentils and aromatics. Served with a spicy tomato puree...
The final vegetarian option is a deceptively simple but super tasty recipe for Braised broadbeans - whole young pods are stripped of their seams front and back, and cooked slowly in a bed of melted onion, garlic and tomato. A friend had her broadbeans flattened by the rain this week, so this would be a great way to use them!
This is the second iteration of the summery green soup - this time it has fish, corn and coconut milk added (and some fish sauce) to make it a Summer Fish Chowder. The greens in this version were courgette, whole broadbeans (I'm becoming a bit of a fan...) and spinach ...along with the onion and potato!
And finally, we have Chicken with Cardamom rice. This was slow-cooked on the woodburner (yes, I know it's supposed to be summer...) - just requires a slow simmer to cook the rice and infuse all the spices through the whole dish: Cloves, cinnamon bark and cardamom pods. My advice is to not break up the cinnamon too much, makes it hard to find later... So this one has those whole spices, as well as basmati rice and currants, and parsley to finish.
There you have it for the first week...