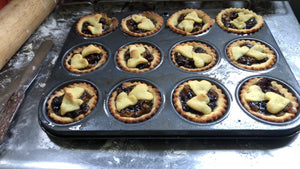 Fruit mince pies and summer tarts... YUM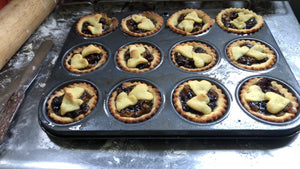 The base of both of these summer treats is a good biscuity pastry. I am not a pastry chef, so NO claims to anything clever here - this is the recipe my mum used to make cases for Neenish Tarts.
As you can see, it is
a] still in imperial measurements  and also
b] battle-scarred from a lot of work in the kitchen over many years
So it's just the top bit we want, and I'll translate to metric for you!
Beat 125gm butter with 125gm sugar until light and creamy. 
Add 1 egg and beat some more
Measure out 250gm flour and 1 tsp baking powder with a pinch of salt, and stir these through the butter/sugar egg to make a smooth dough
Knead very lightly in a floured work surface - the more you work it the tougher it will be. Wrap in baking paper and rest in fridge for about 10 minutes if you can
For fruit mince pies, preheat the oven to about 180degC, roll the pastry out thinly and cut with pastry cutter to fit your patty tins. You can re-work the dough a few times but not too often. Remember to leave enough for shapes to go on top if you want them. Grease the tins, gently lift the big circles off the bench and ease them into the tins, then add 1 tsp of fruit mince to each one, top with hearts, flowers or stars!
For summer fruit tarts, roll to fit your desired pie dish, prick with a fork and bake blind at 180deg C - line the pastry with baking paper, then fill that with dried beans or chickpeas or rice... Once the rim of the pastry is golden brown remove from the oven, leave it to cool a little before gently lifting out the paper and dried things. 
Then you can fill this with whatever you wish - pastry cream and sliced summer fruits, whipped Jelly (another thing my mum used to do), chocolate mousse...
Enjoy!