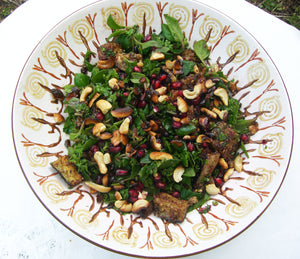 Recipes for Christmas and beyond...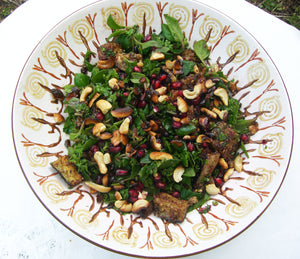 The Christmas Boxes come stacked with great summery ingredients and recipes that are quite fancy but not time consuming or stressful. It's a thing.
We have the eggplant and pomegranate salad pictured above.
There's a recipe for Dolmades, pictured here. These are dainty parcels of rice, currants and nuts wrapped in grape leaves ...
There's a recipe for a Kumara and feta roulade - we made this for last year's vegetarian Christmas and it worked really well so this year I'm sharing...
I've included a recipe for slow cooked pulled lamb  - make use of the slow cooker and save oven space for other things perhaps? Also low stress, which we like. This is flavoured with lime and some carribean-style spices. You could shred it for tortillas on Boxing Day if there's any left...
And lastly, a roasted chicken recipe that doesn't use a whole chicken. The chicken breast is marinaded and basted with redcurrant jelly (unusual, but it really works!).
You'll find what you need (minus the lamb or chicken) in the Christmas Box.