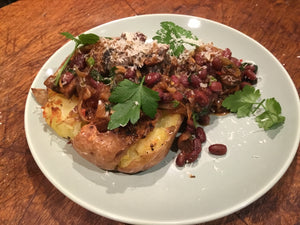 Recipes for a peaceful week - 3rd week of Advent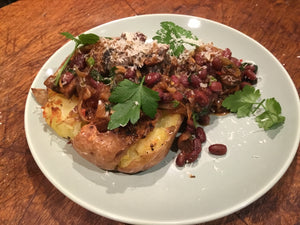 School's out, Christmas is nearly here, and sometimes the sun is even shining!
Just three vegetarian recipes this week - they're quick, full of flavour and suitable for young kitchen helpers if you happen to have some on hand. 
First up is Crushed potatoes with Adzuki beans. I really like these beans! You don't have to pre-soak them (although if you do it will make them even better!), they have fewer carbohydrates than other beans, and they taste really good. 
This Eggplant lasagna uses slices of courgette instead of pasta sheets. The "meat sauce" is substantial with mushrooms as well as eggplant, tomato, marjoram... I obviously sliced the courgettes into rounds but you may be better to use a peeler and cut long thin slices peeling lengthways...
The third recipe is a Kumara, quinoa and hazelnut salad - very simple, stacked with nutrition and not photographed yet. Sorry! We'll be making this one soon in the development kitchen and will post photos after dinner...