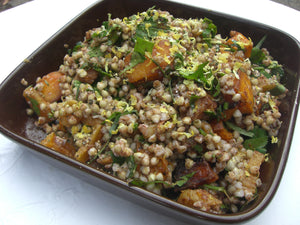 First week of May already! Workers Day recipes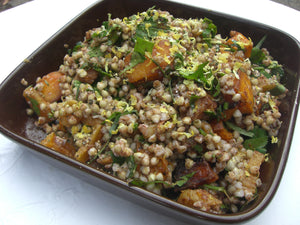 This buckwheat, pumpkin and apricot mix is delicious, quick, packed with nutritional goodness! I really like buckwheat groats, they're really easy to work with and they have a great nutty flavour. You'll see...
Recently a family member has been on a liquid diet so we've been making a LOT of soup. This is one of them, is particularly hearty and tasty - it's an Eggplant and Chickpea stew, although I blitzed most of it to a smooth soup then added back in some eggplant chunks and chickpeas that I'd lifted out pre-blitzing... has Middle Eastern flavours with Lebanese 7 Spice...
The only time I made falafel from scratch they exploded in the pan... so let's call these Chickpea Fritters - just in case...They have lots of fresh herbs and a trio of spices; very tasty! and they didn't explode...
This yellow fish chowder is very yellow! And quite mellow also, depending on whether you choose to add the fresh chilli... has pumpkin and creamed corn as well as potato so it's very soothing. Also has ginger and coriander, a splash of fish sauce to give it an oriental hit as well...
But if you're looking for comfort food it's hard to beat a Chicken and Mushroom potato top pie...  I think you could sneak a whole pile of secret vegetables into this pie also... but at least officially it has chicken, onions, mushroom, and potatoes on top!