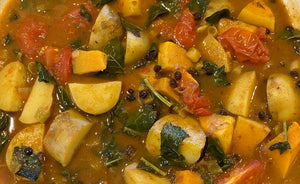 Food from all over the place, but mostly Mediterranean!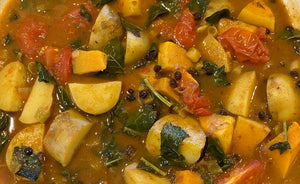 This Iranian Vegetable Stew called for dried limes (I just happened to have a brick-hard one in the bottom of my fruit bowl. Perfect...). There were alternatives listed but I will see if I can find some! It's sharp(dried limes and sumac), warm (chilli), comforting (potato and pumpkin) and a little sweet (currants soaked in lemon juice, to sub out for dried barberries). It was a great combination, trust me! Vegan, DF and GF
Traditionally tabouleh is made with bulgur wheat but quinoa is a great option here: mixed through with a couple of types of mint, fresh tomato, and lightly blanched broccoli... it's simple, delicious and satisfying. what's not to love?! Quinoa tabouleh with broccoli and tomato - Vegan, DF and GF
This one is yet to be photographed - Smokey Polenta Chips with tomato salsa can be vegan (using nutritional yeast instead of parmesan, nut mylk instead of dairy), and is GF. Obviously, using yeast and mylk makes it DF also. It will still be more-ish and delicious... There's a chill time for the polenta in the middle, so check the timings before you make a beginning... 
The Asparagus will only be with us for another week I think, so we'll enjoy it while we can! This frittata is made with Asparagus and potato (standard frittata ingredient). There's mint in there as well to accentuate the freshness of the asparagus flavour. Vegetarian, DF and GF
This is another recipe from the Immigrant Cookbook that I borrowed from the Library a few weeks ago. If you're looking for some food inspiration, I can strongly recommend browsing the library shelves - the book bus also always  carries great food books! So this is braised chicken with mushroom fricassee. The chicken is browned then simmered in some tangy aromatics (garlic, cider vinegar, soy sauce, peppercorns and bay) while you make a fricassee of the mixed mushrooms and thyme. It's deceptively simple, and delivers BIG flavours. Because the tasks sit inside one another (Russian doll styles) the whole thing takes less than half an hour. I made a simple risotto to go with it, also within that timeframe. This one is DF and GF
And finally, Poplettes with tomato and spinach. These little meatballs are kinda cute - use your favourite kind of mince (beef, venison, turkey?!) and add some spring onions, herbs, spices, then lap them with a simple tomato and spinach ragu. Serve them over fresh pasta (thanks Artisan Pantry) or polenta, your favourite kind of mash... again, this will only take you 30 to 40 minutes, and delivers all the colours... DF (if you leave off the parmesan finish) and GF if you serve with something other than pasta...