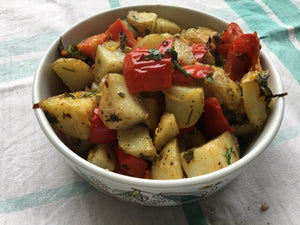 Recipes for the third week of November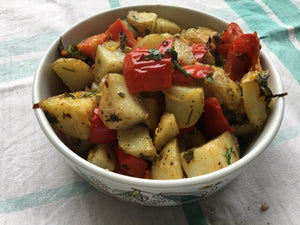 This is a very simple thing - Batata Harra - cubed potato, capsicum, some herbs, some garlic, some chilli flakes... and it's delicious! Also vegan, DF and GF
The thing I like about quinoa is the way the tails release when cooked.... also the high nutritional value it has, and how versatile it is... This Jewelled Quinoa salad is in the list because I saw pomegranates the other day, and remembered using them here along with walnuts, dried apricots, mint and quinoa. This is Vegan, DF and GF.
This is not so much a recipe as a serving suggestion ... New potatoes (finally) in combination with asparagus and a lightly poached egg. Thats it. Thats the whole thing, right there. There may be butter involved if you're that way inclined... New Potato and Asparagus salad - vegetarian, DF (without the butter) and GF
This one has a bit more to it: roasted slabs of red onion, rocket and parsley, some goat's cheese and a walnut salsa with fresh chilli and a little garlic... Roasted red Onion with Walnut Salsa. The red onion caramelises beautifully, becoming very tender and sweet; the sharp, nutty salsa cuts through that and the crumbled goat cheese is creamy and salty... all in all it's a very fine combination. Vegetarian, DF and GF
Prawns with orzo? Absolutely. Peas, red onion, lemon, feta, mint and maybe basil...And orzo and prawns... There you go. This one is pretty quick, very simple, and has great texture and flavour combinations... Is GF and if you use some of that goat cheese, is also DF.
And finally Crispy Chicken and new potato salad! I know we will get to a time when new potatoes are less exciting, but right now is not that time.... The salad also has rocket and lemon. Is a good time... DF and GF