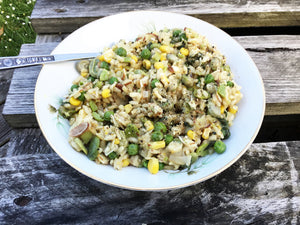 Where did November go? Did you see it?! Recipes for the last week of it!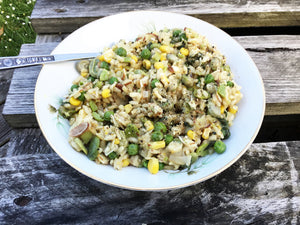 You may not have the same level of excitement about broadbeans as asparagus, but I might... this Broadbean and lemon risotto is a great example - slip the grey skins off and return the bright green segments to the risotto: sweet, tender, and did I mention bright green? This recipe is vegan, DF and GF
This is a split pea hummus-like thing called Fava. It's a Turkish staple for a table full of little plates and confusing, because broadbeans are also fava beans. But no, apparently if you make this dish with broadbeans it's called something else... So split peas cooked down with aromatics, then blitzed, then caramelised onions chopped through, then more aromatics and caramelised onions on top... have it with bread, couscous, as part of a mezze, or use it as a dip. Works equally well hot, warm or cold. Vegan, DF and GF
The Hunza Valley is in the northern part of Pakistan, bordering Afghanistan and China. It's a fertile valley known for long-lived people, a wide range of fruit crops (apricots, cherries, plums and more) and the raw food plant-based diet of the aforementioned long-lived people... So this recipe is called Hunza Pie, but I'm not sure why. It's mostly but not entirely plant based (has cottage cheese) and definitely no apricots: red rice, silverbeet, ground almonds, basil, a crumble of feta   and it is baked not raw... So apocryphal at best, but still very good! Vegetarian, and GF
I was hunting up salad recipes and re-discovered this one: curried chickpea salad. It has red onion, flatleaf and currants as well as the chickpeas and the garam masala... it's very simple, but very good! Fresh flavours, loads of substance but not heavy.  Vegan (if you omit the yoghurt on top) DF and GF
it's been a while since we used this recipe but the time of year is certainly heading in this direction. It's a Teriyaki Salmon rice bowl, super simple to make. The brown rice takes a little longer to cook than white but results in a lovely nutty flavour that works really well with the other flavours... DF and GF
And finally Ma Po Eggplant - an aromatic pork mince sauce over grilled wedges of eggplant... it's a real winner! Marinade the pork overnight for depth of flavour, then pulling it all together only takes about 20 minutes... this one is DF and GF also.