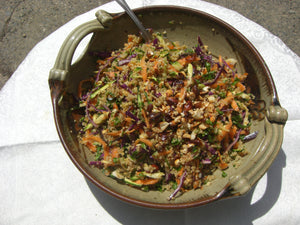 Springtime recipes for the second week of November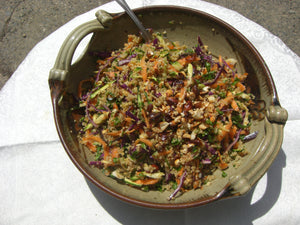 This Thai peanut crunch salad has quinoa to give it additional substance; shredded cabbage, carrots and spring onion, some chopped coriander, roasted peanuts, and a zingy fresh satay-inspired dressing.  It's vegan, DF and GF
Socca is a chickpea pancake, and you'll find it as street food in the South of France. Here it's teamed up with a stew of spinach and mushrooms, tomato and fresh marjoram or oregano. Also Vegan, DF and GF
So I was checking out a recipe for Hot and Sour Soup made with pork mince and it occurred to me that I could make that with Jackfruit...  so this week there are two iterations of this soup - one with Jackfruit, and the other with pork mince and egg drop. This is the Vegan version,  and it has tofu, mushroom, spring onions, ginger, garlic and some sriracha chilli sauce for the Hot. (Rice wine vinegar for the sour) so it's Vegan, DF and GF
More street food! This one is from Turkey and it's called Gozleme - this one stuffed with chard and feta and egg, so vegetarian rather than vegan and  neither DF nor GF I'm sorry. This one is fun to make (potentially something small people could enjoy helping with?) and quick!
This is the Hot and Sour Soup with pork and egg - again, sharp sour flavours, spring onions and mushrooms, tofu chunks, pork mince and also egg drop/flower at the finish. This is DF and GF
Again this one is super easy - yellow curry paste and coconut milk, loads of veg, a small amount of good firm white-fleshed fish. Quick, simple, delicious Thai Fish curry. It's DF and GF.