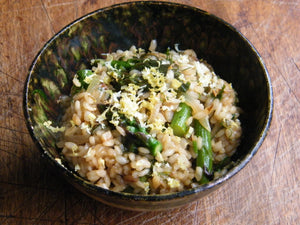 It's Asparagus Time! Recipes for Labour Weekend 22nd October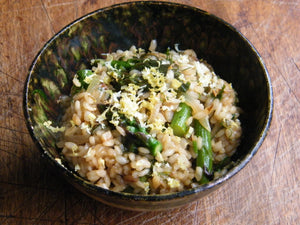 Asparagus and Sorrel Risotto is light and springy and delicious. Sorrel has a sharp lemony flavour and this is boosted by actual lemons in this recipe... and some lemon pepper! Vegan, DF and GF
These Crispy butterbeans with herbed rice are quick to prepare, substantial but not heavy... The butter beans go crispy on the outside, light and fluffy inside, there's turmeric and cumin to add depth of flavour; the rice is spiced with cloves and peppercorns, and laced with shredded spring onions. Yum. Vegan, DF and GF
Gently fried eggplant cubes dressed with honey and cider vinegar, cumin and lemon and some garlic... chopped hazelnuts, red onion parsley and mint... this is super simple but the combination of flavours and textures is really good. Eggplant, hazelnut herb bowl. Vegan, DF and GF
These portobello mushrooms are stuffed with their own stems (minimising food waste...), crumbled feta, some tomato, some garlic, some chives. Takes about 15 minutes and its quite impressive! (and tasty). Stuffed Portobellos - vegetarian and GF. 
I made these little meatloaves in mini loaf tins, I have an even more mini loaf tray which would also work, or you can just make one big meatloaf and slice it for lunches the next day of there's any left. I used good pork sausages, extruding the filling from the casing to get a much higher quality sausage meat than the pre-packaged sort. Meatloaf with colcannon - good meal for a surprise cold day. This one is none of the things. (Because what's colcannon/mash without butter?!)
These poached chicken breasts are a great find. They're aromatic, and can be used in a bunch of things - such as these wraps, but also you could add them to salads or pizza or platters of delicious things. They're quick to make and hold in the fridge for extra uses later...These wraps are not vegetarian but they are DF and could be GF with careful choice of wrapper...