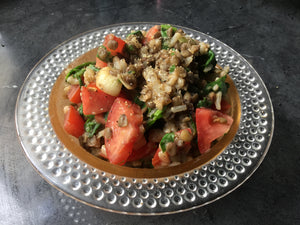 Recipes for the week starting 15th October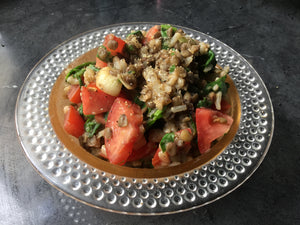 Rishta is a Middle Eastern dish with brown rice, green lentils, onions, garlic, leafy greens, lemon and parsley, with some chopped fresh tomato added to give a summery burst at the end... Is vegan, DF and GF
This Lemony Pasta Salad is - self-evidently - not GF, but you could substitute basmati rice for the orzo pasta quite successfully. The cannellini beans give it substance and the fresh herbs and lemon give it zing. Its an excellent fast food option - takes only as long as the cooking of pasta/rice! Vegan, DF and can be GF
So I had some asparagus which seemed like a good friend for this Honey Garlic Tofu.  (it was!) The tofu gets crisped up in the oven and then just before it's ready you make a honey/soy/garlic/black pepper sauce. I left this cooking for a bit too long and it almost turned into toffee - this was not a bad outcome... The sauce is also excellent with the asparagus. Vegan, DF and GF
While we can, lets make variants on potato gratin with the potatoes that will go creamy and delicious in the oven! These little stacks of potato with rosemary, red pepper flakes and parmesan (and melted butter/olive oil)  are cooked in muffin pans, making them single serve treats... Parmesan Potato Stacks: They are lots of fun and very tasty! Vegan, DF and GF if you use olive oil instead of the butter and yeast flakes instead of parmesan.... Your call...
The shop around the corner from here sometimes offers salmon mince, so I got some to experiment with; result - salmon and pea risotto. (also a very good soup that will make an appearance in a week or two). The Risotto is very simple: leeks, arborio, lemon pepper substituting for stock, then once the rice is nearly cooked the salmon and peas, then some crumbled feta, then some spring onion. Easy one foot after the other stuff, quick and delicious. GF only, very yum.
This slow cooked lamb is very versatile - pile it on flatbreads, have it with a salad, or couscous or parmesan potato stacks! The ideal cooking time is as long as you can possibly manage... it's GF and only DF if you omit the sumac yoghurt to go with it.