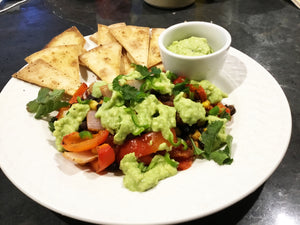 October with a side order of winter - recipes for 8th October!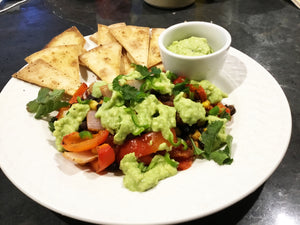 There's a snow warning down to sea level tonight, doesn't seem very springy... Hopefully there's something suitable for any kind of weather in this week's recipe selection!
First up we have Cajun Mess with tortilla crisps. If you have a GF household we will supply corn tortilla of course. This is sneakily substantial - black beans and corn in the Cajun mess - with loads of fresh flavours, and a creamy avocado dressing. Vegan, DF and can be GF
This recipe called for Annatto powder which I couldn't find the last time I made it. Then I found some!! So you will get a more authentic version this week... there are adzuki beans and corn, red and basmati rice, spices, chilli (you can decide how much you chop in) tomato and herbs. This would be a good meal on a cold night - just in case we have a few of those next week...Dirty Rice, vegan DF and GF
this Kumara and Chard curry is as hot or not as you decide. It's warming and delicious and super quick to make - well, for a curry. Takes about half to three quarters of an hour... Vegan, DF and GF. You can have it with rice or flatbread (in which case it wouldn't be GF)
Chard features in these mini crustless quiches also, along with feta. These are great for lunches or serious after school snacks and they have a good amount of extra veg as well...You don't have to make them in muffin trays, but I found them quite handy at this size. Crustless chard and feta quiche, vegetarian, GF
This is a classic moussaka with lamb mince, eggplant, and a baked savoury custard topping. This is very substantial, but again quite quick to put together. Most of the cook time is the Moussaka sitting in the oven doing its thing while you do something else... can easily be GF and DF 
Chicken with two tone slaw is economical on meat without missing out on flavour. You may have some cooked chicken from a previous dinner - perfect! Red and green cabbage, avocado, carrot, fresh herbs and a fabulous nut butter dressing with zing from fresh ginger and garlic, Tamari and cider vinegar... DF and GF. I guess you could roast up firm tofu and sub that for the chicken, making this vegan! (would work really well actually...) I'll include those notes in the recipe just in case you want to experiment...