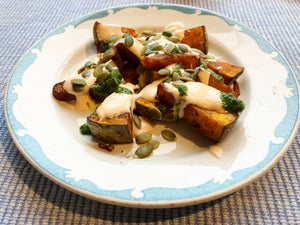 Recipes for the first week of October! Where did that year go?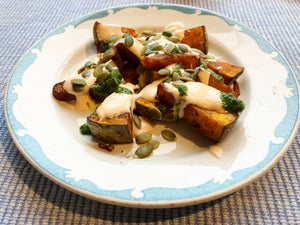 Confession - haven't ever used sriracha before. But hey, now I have a bottle of it in my fridge so... it wasn't as Hot-Spicy as I expected, it delivers a real kick of sweet/sour/warm. This is cinnamon roasted pumpkin with sriracha yoghurt and coriander pesto, also toasted pumpkin seeds to give it a crunchy finish... yum. Can be vegan if you use coconut yoghurt, which would actually work really well... So potentially Vegan, DF and GF
This is not the season for local eggplant. However, Caponata is a very good time. It's a slow cook of eggplant, potato, onion, garlic and a bunch of mediterranean flavours : capers, tomato, olives, oregano... have it with some great bread and you'll be all set. Vegan, DF and GF (depending on the bread...)
This curry is mellow, creamy, delicious! Full of spicy flavours but not too hot - well you can control that actually, by how much of the fresh chilli you chop into it... Parsnip and Cashew curry - Vegan, DF and GF
Custard may not be a word you comfortably associate with soup - opinion is divided in my family! - but this riff on the traditional Greek egg and lemon soup was very good! You can leave out the final step in process, making the soup Vegan and also avoiding the controversial custard qualities... Leek, rice, lemon juice and grated rind, veg stock, simmer... then blitz it. Leave it right there for the vegan version, or carry on with an egg beaten into a little of the cooled soup, and added carefully to the rest of the soup. That's it pretty much. Leek, lemon and egg soup - deceptively simple, absolutely delicious. Vegan/vegetarian, DF and GF
This is a tasty and pretty hands-off meal of lamb chops with leeks and cannellini beans. It's a slow-ish bake in the oven, making everything meltingly tender and delicious. Lamb chops with leeks and beans? Yum. DF and GF
The combination of beef with orange rind is a long-established one in French and also Asian food. Here there's more of a tilt to the East, with hoisin and rice wine in the mix. It takes careful looking but gluten free hoisin is available, so these Sticky Short Ribs can be DF and GF.