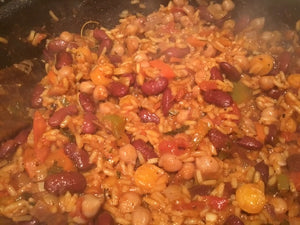 Jambalaya without the bacon, and whitebait fritters without the whitebait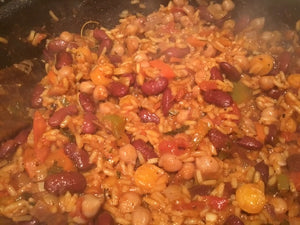 This week's recipes seem a little ...divergent. First up is a really tasty vegan jambalaya. It has kidney beans, chickpeas and loads of spicy flavours! 
Then there's a Black Dal, using urad dal and mung beans. these beans don't need soaking and cook quite quickly. There are lots of spices in this one, flavoursome rather than hot!
Borscht is a beetroot soup - some reading suggests it is a sour coup but this version is not. It is substantial, and makes the most of the fabulous beetroot we have from Oamaru Organics! 
The next recipe uses fish - white fish - as a more sustainable version of  not-whitebait fritter: eggs, flatleaf parsley, flaked fish. Done. So tasty! 
and then MeatLoaf! With colcannon and golden tomato relish ...  There will be loads of secret veg to make the meatloaf lighter and tastier... colcannon is an Irish version of potato mash - has buttery leeks and cabbage.