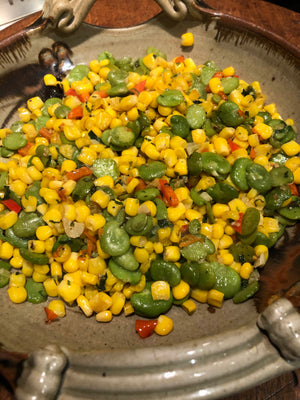 Recipes for the coming week, 18th July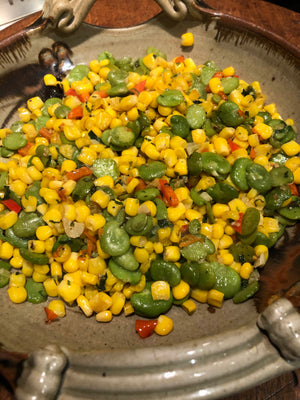 Succotash!  For some reason this word makes me think of TweetyBird and Sylvester... Sufferin' succotash? maybe. The vegetable version has corn, garlic, broad beans, basil mint and chilli... really easy and so tasty!
Second on the list is a Buckwheat cumble with roasted carrots and apple, beetroot and kale. Think like a savoury crumble... the crumble has sunflower seeds, cooked buckwheat and grated tasty cheese. 
This is a creamy red lentil Dahl with coconut milk, lime and cashews ... is very definitely comfort food, and child-friendly. Of course you may prefer not to share too widely...
This Chicken Traybake has loads of vegetables and a zingy kale and pistachio pesto to go with it. Very simple, you can use whatever vegetables you have on hand for the bake, and the pesto will also work really well the next day with ... well, just about anything.
I don't know why I thought that long strand of spring onion was a good idea. However the Beef and Soba Noodle salad underneath it is a very good idea. You can load this up with strips of vegetable, chargrilled broccoli, sautéed mushrooms, and it only needs a very economical application of beef on top. In fact you could probably do without the beef altogether. But then you would need to call it something else. 
So I experimented with the alternative and it is a very tasty thing. It's a bonus vegetarian recipe this week - soba noodle salad with mushrooms. Yum.