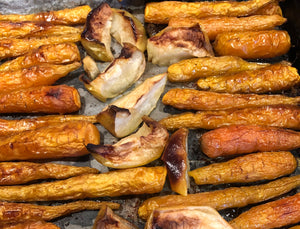 What to do with too many carrots: Recipes for the coming week starting 25th July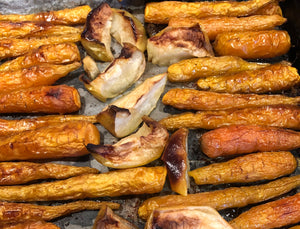 I had a lot of carrots - beautiful baby carrots from Caithness Farm, sweet, crisp and delicious. So I roasted them along with some apples from Rosedale Orchard. And then I souped them with some cashews.
I had Kale and pistachio pesto lurking in the fridge and it made a very good combination - so pretty! So that's the Roasted carrot and apple soup for this week.
The Moroccan eggplant with quinoa is full of warm spices, really quick to make also. There will be a real photo tomorrow! 
And the third vegetarian option is Egg-fried Cauliflower rice. This is very simple and quick, and you can chop in some capsicum and  flatleaf parsley to make sure you're eating your colours...
Chicken and Leek comfort pie has a kumara mash topping spiked with ginger and mustard. It is very comforting...
And the Pork Bolognese is quick and full of flavour. Serve it with pasta from Artisan Pantry, our local pasta maker. It's a very child friendly meal that will still be great the next day if there's any left! 
I have a lot of photos still to take, but we'll get there.