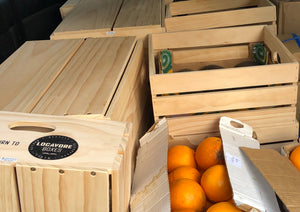 New boxes with some exciting upgrades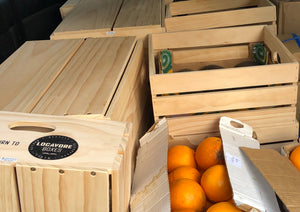 While the fabulous Gisborne oranges and avocados (you can just see them hiding in a box on the right) are exciting, those are not the upgrades I'm talking about...
Our boxes are made by Cargills Enterprises, which is an award-winning social enterprise in Dunedin. You can find out more about their box-making here: http://www.cargillenterprises.co.nz/products/presentation-boxes
Brendan who is the Box Maker Supreme helped carry these to the Locavore Vehicle and confided that he had made a very good job on them, and I agree wholeheartedly! He has made them extra strong with screws in the base, so your vegetables and fruit won't fall out. 
You can see the screws in the photo above, and also my other favourite feature: The PLEASE RETURN signage, on both ends of every box.
The problem with the boxes is, they are so beautiful they sometimes don't make it home again...