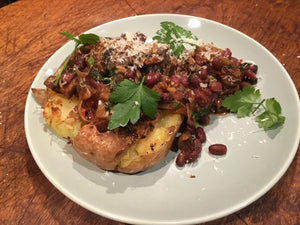 Recipes - July 4th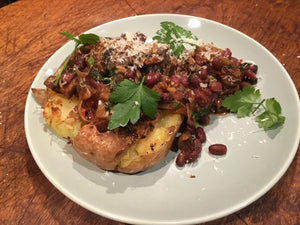 A couple of this week's recipes are a bit similar - but different enough and both SO GOOD that I am unrepentant! 
First up are crushed potatoes with Adzuki beans. This takes a bit of time - perhaps three quarters of an hour - but very simple, and super tasty. Just right for wintry evenings.
This is a soup I invented last night  - let's call it Broccoli and Cauliflower soup - and that's pretty much all it has in it, along with some garlic and some old bread. I had a chunk of focaccia that was rock hard, used that. It's substantial but still quite light. The swirl of sesame oil on the top, mixed in as you go, is a great addition.
Vegetarian Nachos is kinda like crushed potatoes with Adzuki beans, right? But this one has avocado and black beans with Mole sauce... so.... Again, super quick and easy, accessible for younger palates...
I admit, this is a repeat from April. But Chicken burgers with sesame and ginger are worth a re-run! Very simple, very good. 
This is a slow cook - either in the oven or the slow cooker. Lamb shank with pumpkin mash and a warm broccoli and walnut salad. The pumpkin mash is seasoned with fresh nutmeg.