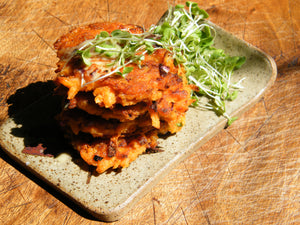 Recipes for the week beginning 27th June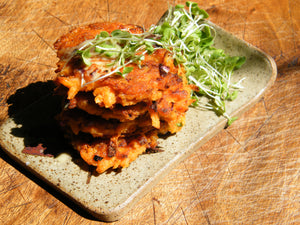 Red lentil fritters are crispy and tasty, and apparently great for taking to shared meals! They are also very quick, and very accessible for small people's palates. 
Bean and Mushroom with cauliflower pasta - uses cauliflorets as a pasta substitute, with a deep-flavoured mushroom and bean sauce. Is a good time especially given the weather we've been having!
Carrot and pumpkin risotto - such a cheery colour! The carrots we've had lately from Caithness Farm are very dainty, like spring carrots. Risotto is very quick and simple to make, it's a great standby to use up bits of things left in the fridge: a very forgiving meal...
This rice bowl option is quite glam - avocado and teriyaki salmon - but super easy to make and quick. We like easy and quick.
and the last option is a bacon hock soup with baby turnips and yams... photo to come , as it's still simmering on top of the woodburner. A good one for the slow cooker if you don't happen to have a woodturner to cook on.
So there you go.