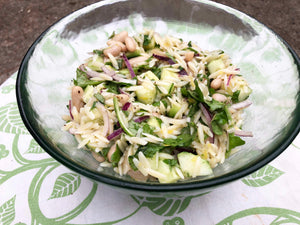 Light lemony salads, creamy curries, and a Sicilian meatloaf that's just as great the next day! November here we come...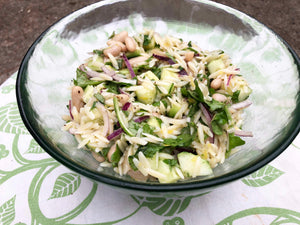 This first lemony salad uses orzo - otherwise known as risoni - rice shaped pasta. It has lemon, cucumber, cannellini beans, fistfuls of rocket and mint.... very refreshing and substantial enough for a meal on its own. Yum. Vegan, DF but not GF
I borrowed a Nigel Slater cookbook from the Bookbus, and it's bristling with slips of paper  - always a good sign! This Parsnip, spinach and cashew curry is adapted from there. It's really good, and very straightforward to put together - you know how much I like straightforward... Vegan, DF and GF
This Morrocan spiced Pearl Barley also has loads of fresh herbs, as well as dried fruit and nuts... and spices! Sumac, fennel and cumin...It's stacked with flavour! Vegan, DF and GF
I made these guys in Texas muffin tins, and they are just the right size for lunch! Crustless chard and feta quiche - definitely not vegan but a great vegetarian option. Can be GF (with chickpea flour) 
This Ethiopian Lamb curry has a warm rich flavour - Berbere spice blend, bayleaves, dates for a hint of sweetness and depth, and lots of TIME. Cook it for as long as you can, to get the meat meltingly tender and the flavours rich and satisfying. Yum and Yum. This one is DF and GF.
I find reading food so interesting, I have to remind myself it counts as work.... This week I explored Sicilian meatloaf - because why not? It's rolled around wilted greens and grated cheese, and there are secret veg in the meaty bit as well. You can add a tomato puree or salsa, serve it with linguine or potato gratin as here, or whatever you wish really. It was very good hot but guess what?
It's also very fine sliced cold the next day! The bread here is Gilbert's Spelt loaf which is also very fine...The meatloaf is neither GF nor DF. You could sub out the breadcrumbs for cooked rice, and then it would be GF...