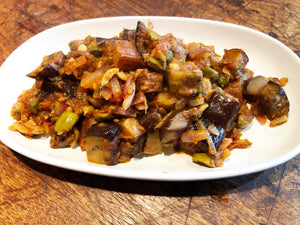 Where are we off to this week? The kitchen mostly... Labour weekend and on from there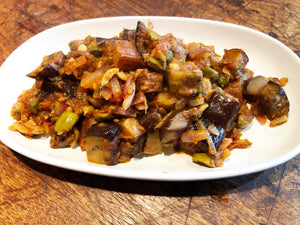 There is really no geographical hook to tie these options together, the main thing that links them is general deliciousness...
First up we have Caponata which is a great blend of Mediterranean flavours - eggplant, tomato, capers, olives, marjoram as well as potato ... It's very simple, and extremely tasty. Vegan, GF and DF
Don't be deceived by the soup-like appearance - this Chickpea and carrot satay is pretty substantial! Have it with rice or flat bread - or a spoon... the carrots are roasted in the oven. Is very good. Vegan, GF and DF
Pearl couscous with greens and mushrooms is obviously not going to be gluten free - but you can substitute rice for the pearl couscous and then it will be! This is silky and delicious, and Very Quick to make. Vegan, DF (and GF if you use rice.)
These Corn Cakes are not vegan, DF or GF! They are vegetarian, and they are so light and fluffy! They're flavoured with cumin, fennel and celery seeds and the light and fluffy comes from whipping the egg whites and folding them gently into the mixture... Vegetarian
Thai Fish Curry is one of my favourite things - it's a yellow curry and using a premade curry paste makes it super easy - is that cheating? Maybe. I am in this instance unrepentant. Use whatever veg you have on hand in any given season, it will always be good! (so long as you put the ones that take longer to cook in first ...) GF and DF
It's hard to go wrong with meatballs. These ones are made with pork and apple, with a sizeable handful of fresh marjoram as well, so they are light and fresh-flavoured. Cooked to tender perfection in a tomato gravy... make more that you think you will need, because guess what? You'll need them all... GF and DF
That's it for this week! Hope you have a lovely restful day on Monday...