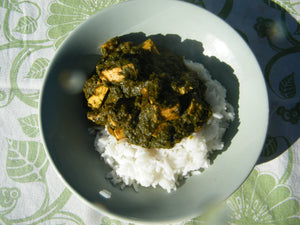 Two curries! + sticky short ribs and a salmon crustless quiche + other vegan delights for the third week of october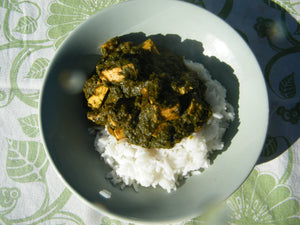 Start the way you mean to continue, right? Saagwalla curries are my favourite: green gravy wrapped around lamb, goat, paneer, tofu... it's always a winner...
This palak paneer is pretty much a saag by another name. You can sub marinated tofu for the paneer, it will be great! GF, vegetarian. Tofu version is GF, DF, and Vegan
This is a simple kumara and spinach curry - but simple doesn't mean slight on flavour... you can decide how much of that fresh chilli you put in, as well as the ground coriander, cumin and turmeric. Is a deeply satisfying dinner... and quick! GF, DF, vegan
Rishta is a middle eastern combo of green lentils and either pasta (orzo) or brown rice if you need a GF version. Also spinach, parsley, lemon and some fresh tomato... Half an hour should do it. GF (with brown rice), DF and vegan.
This soup has three ingredients (four if you want to add a tin of lemon pepper tuna) and takes literally five minutes to pull together. In spite of that it's full of flavour and food value! For this reason I call it Emergency Soup... Is a very handy one to have tucked away on your mind and on the shelf... GF, DF, Vegan
Here's a great recipe to make a modest amount of smoked salmon go a LONG way. It's a crustless quiche with salmon and kale - topped with toasted seeds, packed full of flavour. So good! GF (uses ground almonds instead of flour) also contains seeds - Pumpkin, sunflower and sesame.
and finally Sticky short ribs - this is the second try and it worked even better than the first one! They are unctuous - meltingly tender, and there's quite a lot of fat which I will feed to my garden birds later... I added the peel from an orange to the slow cook and it was a very good idea... You could serve them with whatever you like really, but these ones didn't make it to a plated dinner... I ate them standing in the kitchen. These are GF and DF.