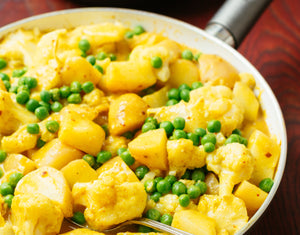 Meals for the first week of the last term of 2020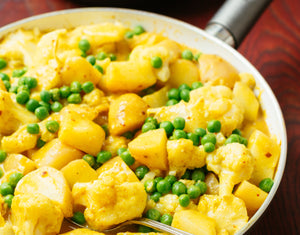 Is that a bit difficult to process? The year has hurtled by and yet gone in slow at the same time. Weird.
School terms aside, here are some quick and fabulous meals to see you through the week... first up one of my favourite curries, Dry Pea and Potato curry. Loads of flavour but not heat, quick to make,   contains peas and potato... and brown mustard seeds, maybe some cauliflower, a bit of mint...
This is Eggplant with lemon and green olives ...  has a very summery, Mediterranean vibe! Great as a salad with other things, or just to enjoy on its own...
And the third vegetarian option for this week is an avocado and tahini dip with flatbread or bread sticks. (photo to come later this evening...)
The dip is kind of guacamole with a Middle Eastern twist and the flat bread recipe is Very Handy - we use it for pizza bases, bread twists with sesame seeds and sumac, or flatbread. It's super quick because while you can leave it to rise if you have time, you don't have to. 
Then there's a crustless smoked salmon and kale quiche. This has sunflower, sesame and pumpkin seeds in the topping, and ground almonds in the filling - so gluten free and full of nutty goodness! A very small amount of smoked salmon goes a long way in this dish...
And finally, a deconstructed chicken Caesar salad. You could compile it in the conventional manner if you wish, but I quite like to layer this up separately... this is light and fresh and QUICK!